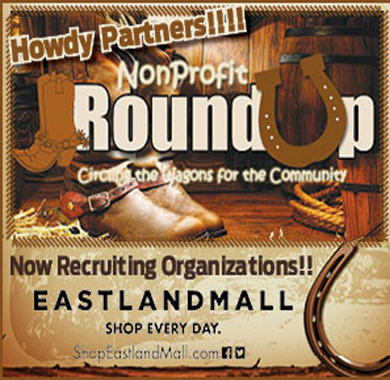 NonProfit RoundUp Scheduled for June 10
June 10, 2017 10:00 AM - 4:00 PM
Howdy Partners!!!!

The Eastland Mall NonProfit RoundUp is scheduled for Saturday, June 10 from 10 a.m. to 4 p.m. in Cafe Court. The event, formerly known as the Volunteer Fair, will have a fun and enthusiastic Western Theme this time around. Participating organizations will be asked to dress in their best western outfit and really get into the spirit with this fun community event.

We are currently recruiting organizations to be a part of this event. To express your interest, organizations need to send an email to: Connie.Campbell@Macerich.com.

Participating organizations will receive a 6' table, a table skirt and two folding chairs. Each organization will decorate their table to best illustrate their organization and what they are all about.

The event is FREE to any community organization that maintains a valid 501c3 certification.