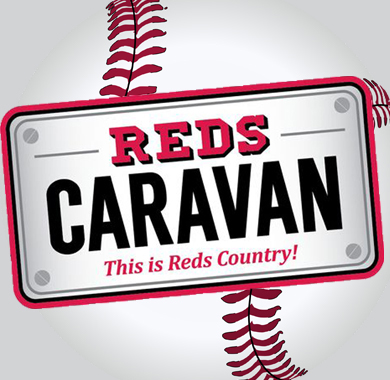 Cincinnati REDS Caravan 2018
January 26, 2018 4:00 PM - 6:00 PM
CINCINNATI (Jan. 10, 2018) — The 2018 Cincinnati Reds Caravan kicks off Thursday, Jan. 25 from the Reds Hall of Fame & Museum and will travel more than 3,800 miles with stops in five states over four days.

The four Caravan tours travel through Ohio, Indiana, Kentucky, West Virginia and Tennessee providing fans with the opportunity to interact with current and former players, top minor leaguers, broadcasters and members of the Reds front office staff.

At each of the 18 fan stops, the groups will field questions and sign autographs while time allows.

All Caravan fan stops are free and open to the public, and at each fan stop the Reds will raffle two tickets to the 2018 Opening Day game on Thursday, March 29 (4:10 pm) vs. the Washington Nationals.

For the third year in a row, the Reds Caravan will culminate with the Caravan Finale at the Florence Mall in Florence, Ky. on Sunday, Jan. 28. Doors to the mall open at 9 a.m. and the Q&A with players will begin at 11 a.m. From Noon to 2 p.m., fans can get autographs with current players and photos with Reds alumni and minor leaguers.

The Reds Caravan is presented by the Cincinnati USA Regional Tourism Network.

The North Tour includes broadcasters Jeff Brantley and Jim Day, pitcher Amir Garrett, minor league catcher Tyler Stephenson, President of Baseball Operations and General Manager Dick Williams and mascot Rosie Red.

North Tour
Thursday, Jan. 25
Columbus, Ohio
7:00 – 9:00 pm
Friday, Jan. 26
Lima, Ohio
5:30 – 7:30 pm

Saturday, Jan. 27
Dayton, Ohio
11 am – 2 pm
Saturday, Jan. 27
Hamilton, Ohio
3 – 5:30 pm
Sunday, Jan. 28
Florence, Ky.
11 am – 2 pm

The South Tour includes broadcaster Thom Brennaman, outfielder Phillip Ervin, outfielder Adam Duvall (Louisville only), minor league outfielder TJ Friedl, roving catching instructor and former catcher Corky Miller, former outfielder Austin Kearns (Lexington only), President and COO Phil Castellini, Senior Director of Player Development Jeff Graupe, Executive Advisor to the CEO Walt Jocketty (Louisville only), and mascot Mr. Redlegs.

South Tour
Thursday, Jan. 25
Louisville, Ky.
6:30 – 8:30 pm
Friday, Jan. 26
Nashville, Tenn.
7:30 – 9:30pm
Saturday, Jan. 27
Bowling Green, Ky.
11am–12:30pm
Saturday, Jan. 27
Lexington, Ky.
5 – 7pm

Sunday, Jan. 28
Florence, Ky.
11am – 2pm

The East Tour includes broadcaster Jeff Piecoro, pitchers Sal Romano and Cody Reed, Manager Bryan Price, minor league infielder Nick Senzel, Reds Hall of Famer Tom Browning, Vice President & Senior Advisor to the General Manager Buddy Bell and mascot Mr. Red.

East Tour
Thursday, Jan. 25
Athens, Ohio
6:30 – 8:30pm

Friday, Jan. 26
Charleston, W.Va.
6:30 – 8:30pm
Saturday, Jan. 27
Parkersburg/Vienna, W.Va.
10:30 am – 12:30pm
Saturday, Jan. 27
Huntington, W. Va.
2:30 – 4:30pm
Sunday, Jan. 28
Florence, Ky.
11 am to 2pm

The West Tour includes broadcaster Marty Brennaman, outfielder Scott Schebler (Thursday & Friday only), catcher Tucker Barnhart (Muncie, Indy & Batesville only), minor league outfielder Taylor Trammell, former infielder/outfielder Dmitri Young, Vice President & Assistant General Manager Nick Krall and mascot Gapper.

West Tour
Thursday, Jan. 25
Muncie, Ind.
5:30 – 7:30pm

Friday, Jan. 26
Evansville, Ind. (Eastland Mall)
4- 6pm (CST)

Saturday, Jan. 27
Bloomington, Ind.
9:30 – 11:00am

Saturday, Jan. 27
Indianapolis, Ind.
12:30 – 2:30pm

Saturday, Jan. 27
Batesville, Ind.
4 – 6 pm

Sunday, Jan. 28
Florence, Ky.
11am to 2pm

All times, locations and participants are subject to change. Additional Caravan participants may be added to select tours.

Seating is limited at all Caravan stops. Autographs will be available on a first-come, first-served basis while time allows. No posed photographs. There may be restrictions on items participants can sign.

The Reds Caravan will visit over 20 Reds on Radio affiliates throughout Reds Country and four schools as part of the "Reds Caravan Takeover."

Reds sales representatives will be at each stop to answer ticketing questions and discuss 2018 ticket plans, while the Reds Hall of Fame, Reds Community Fund and Cincinnati USA Regional Tourism Network will attend select stops.

Memberships to the Reds Heads Kids Club, Reds Rookies Baby Club, Club Red and Reds Hall of Fame & Museum will be for sale at select stops.

Visit reds.com/caravan for up-to-date information, maps and photos.