October 31, 2018 5:00 PM - 6:30 PM
---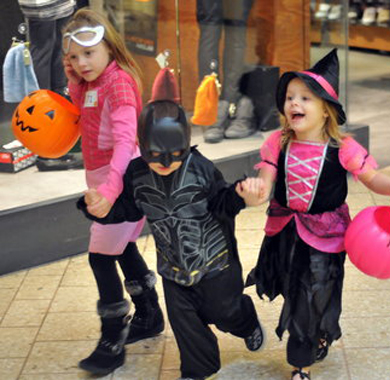 It's become an annual tradition and a whole lot of fun. The 2017 Safe Trick or Treating at Eastland Mall is Tuesday, October 31st beginning promptly at 5 p.m.* while the candy lasts. Trick or Treat the mall's 100+ retailers and enjoy a safe, dry, indoor environment.
After the Trick or Treating is over, enjoy dinner with the family in Cafe Court offering various family friendly restaurants including Chick Fil A, Auntie Anne's, Great Steak, Taqueria, Taste of NYC, Bourbon Street Grill, China Experience and TGI Fridays.
Rules for the event include:
1. No toy weapons of any type are allowed
2. Masks can only be on children 12 years of age or younger
3. Adults are encouraged to dress up too, but their costumes must fall in line with the code of conduct for Eastland Mall and not include any masking of any type.
*This is a very popular event. For the most enjoyable experience, plan to arrive at the mall around 4:45 p.m. The event will start promptly at 5 p.m. and last as long as the candy lasts.