Vanderburgh County CASA - Non-Profit of the Month
Now through February 28, 2019
---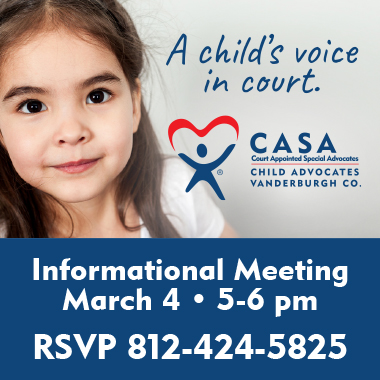 Mission
The mission of Vanderburgh County CASA is to support and promote court-appointed volunteer advocacy in the community and to serve as a child's voice in court. Vanderburgh County CASA works to establish a safe living environment for abused and neglected children in the community, by providing them with the tools and opportunities to thrive.
In the early 1980's, former Juvenile Court Judge, Judge Robert Lensing, appointed a special community task force to research and study the need for child-centered advocacy in his court. After careful consideration, the community task force recommended the establishment of a program that advocated for abused and neglected children in the community. Due to the fact that there was a growing need in the community for such a program, Judge Lensing, in partnership with community leaders and dedicated advocates, established the Vanderburgh County CASA program in 1984.
Informational Meeting March 4th 5pm to 6pm RSVP (812) 424-5825
For more information on volunteer opportunities, donations, etc. visit their web-site at
Learn More >
14NEWS JOB FAIR
February 23, 2019 12:00 PM - 4:00 PM
Looking for a new job? Wanting to see what other companies offer in our area? Check out the 14NEWS J...
Kids Zone Event - Charming Bead Bash
March 9, 2019 11:00 AM - 12:00 PM | JCPenney
Help us celebrate Barbie's 60th! Kids will get to make a beaded necklace andbracelet, or two bracele...