April Nonprofit of the Month - Jacob's Village - A place to call home
Now through April 30, 2019
---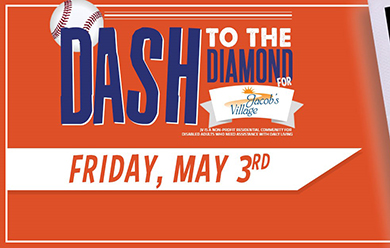 Join us for Jacob's Village Night at the Evansville Otters on Friday, May 3rd!
DASH TO THE DIAMOND!
VISION
Envision a tri-state community where all people, regardless of age, race, or ability can enjoy a home of their own in a setting that fosters mutually supportive relationships among neighbors, access to services that enable independent living, and social and recreational opportunities that enhance quality of life.

MISSION
The mission of Jacob's Village is to develop a safe, walkable neighborhood community where people with disabilities and older adults can find meaningful relationships, housing that is affordable and accessible, and activities that encourage active minds and bodies.
Go to https://jacobsvillage.org/ for information on services, volunteer and donation opportunities.
14NEWS JOB FAIR
May 18, 2019 12:00 PM - 4:00 PM
Looking for a new job? Wanting to see what other companies offer in our area? Check out the 14NEWS J...
Olympus Golf Cart Display
Now through April 30, 2019
New Local Source Brings a new kind of Business to the Tristate Area!!! Eastland Mall is proud to we...