CHAMBER OF COMMERCE CNN'S FOR 2020
Now through January 1, 2021
---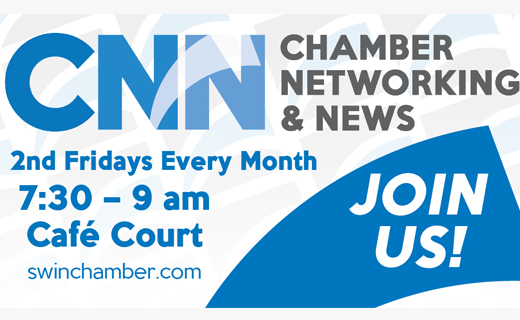 Eastland Mall hosts the Southwest Indiana Chamber Networking News (CNN) events on the second Fridays of every month (except December). The CNN event is a great way to network with other area businesses and make strong business contacts in the community and the region. Eastland Mall's CNN's are held in Cafe Court and sometimes features some neat surprises from the mall's retailers.
WHAT IS A CNN?
• SPEED DATING FOR BUSINESSES
• SERIES OF THREE ROUND TABLE SESSIONS
• SIT WITH 7 OTHER PEOPLE EACH SESSION.
• YOU GET 2-MINUTES TO TALK ABOUT YOUR BUSINESS
• COLLECT NAMES, EMAILS, ETC.
• MAKE DIRECT CONTACTS
WHY ATTEND A CNN?

MEET PEOPLE WHO ARE ABLE TO HELP MARKET YOUR BUSINESS
SHARE SALES PROMOTIONS AND SPECIAL EVENTS
CREATE NEW PREFERRED CUSTOMERS
REPRESENT YOUR BUSINESS IN A COMMUNITY EVENT
EDUCATE PEOPLE ABOUT YOUR BUSINESS AND WHAT YOU HAVE TO OFFER

2020 Events Schedule
March 6, 2020 (Bonus CNN)
June 19, 2020 (Bonus CNN)
November 13, 2020
Learn More