Join us for the Community Networking & News Events!!!
---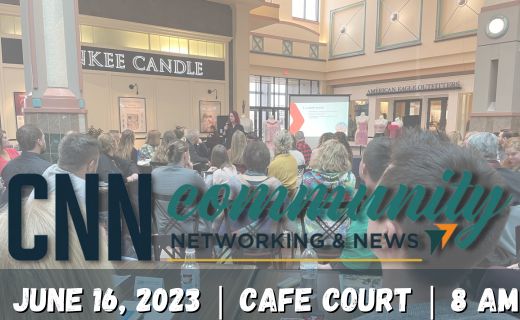 Join us for face to face business networking in Cafe Court in 2023! The Evansville Regional Economic Partnership (E-Rep) and Eastland Mall have partnered once again to host the Community Networking Events or CNN's. The first event will be Friday, January 13 from 8AM to 9:30AM in Cafe Court.
What's the Community Networking News?
CNN's are a great way to talk about your business to a group of 100+ like minded individuals. The event consists of three rounds of networking where you have two minutes to talk about your business each round. Collect business cards, trade emails, schedule meetings during this power packed hour and half event.
Schedule for 2023
The CNN will be held on the following dates in 2023:
- June 16
- July 14
- August 11
- September 8
- October 6
- November 3
Questions about the CNN?
If you have questions about the CNN, please reach out to Sean Ferguson at (812) 477-7171 ext. 204.
Tri-State Food Bank is Eastland Mall's Nonprofit of the Month
Now through June 30, 2023
Eastland Mall is proud to announce that the Tri-State Food Bank is the Nonprofit of the Month for Ju...
Short Cutts, A podcast about Eastland Mall
Ongoing
Welcome to Short Cutts, a podcast about Eastland Mall featuring conversations and interviews with pe...